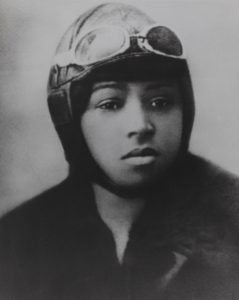 Bessie Coleman had a big dream of one day becoming a pilot in spite of her gender or race. The obstacles that stood in her way simply were not big enough to deter her dream they only slowed her down enough to figure out how to overcome them. The will to fight and overcome led her to become the first black woman to obtain a pilot license. Her life teaches us that in spite of adversities, we are able to progress and achieve our dreams.
Born one of 13 children in Atlanta, Texas in 1892, Bessie Coleman helped her parents to care for her younger siblings. She was raised in Waxahachie, Texas and excelled in school which gave her the opportunity to apply for and get accepted to college. Unfortunately, due to a lack of funding, she had to prematurely halt her educational pursuits. In 1915, at the age of 23, Bessie moved to Chicago where she attended beauty school. While there, she worked as a cook, maid, and manicurist to make a living.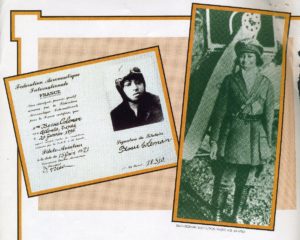 It has been unclear why or how she became interested in flying but, there is a possibility that she read an article about a small band of women aviators (1) which sparked her curiosity. Because of the racial prejudice that Black people faced in the United States her friend Robert Abbot, a publisher of the Chicago Defender, suggested that she travel to France to attend aviation school and get licensed there. With that goal in her mind, Bessie Coleman worked and saved her money to travel to France. During this time, she also learned French which would make life easy for her in France.
On June 15, 1921, Bessie Coleman travels to France and spends 7 months taking rigorous classes at the Fédération Aéronautique Internationale (FAI) to obtain her license; which she did in 1922. With her license in hand, she headed back to the states and attempted to make a career out of being a pilot. In September of 1922, she debuted as a stunt pilot at an event honoring veterans of the all-Black 369th Infantry Regiment at Curtiss Field, outside of New York City.
Throughout Bessie Coleman's short-lived career, she garnered attention from the Black press, however, struggled to raise funding to sustain her life as a pilot. She combined lecturing with touring the country, as a barnstormer doing aerial stunts and daredevil flying, in airshows to stay afloat. In 1923, she purchased a used aircraft that stalled on her mid-flight causing her to crash into the ground. Several bones were broken and she was hospitalized for 3 months. It took her a total of 18 months to fully recuperate from this accident and she took to the skies again. Sadly, three years after another plane crash caused Bessie Coleman's death in 1926. She was on a test flight and was not wearing her seat belt when her plane nosedived causing her to fall to her death.
Bessie Coleman is the epitome of Black Girl Magic… She had a dream and kept going until it was fully realized.
Have you ever had a dream that you wished with all of your might that it would come true? Look at Bessie Coleman for inspiration and let nothing deter you from your dreams.
#blackhistoryrocks
Citations:
Hardesty, Von. Black Wings: Courageous Stories of African Americans in Aviation and Space History. New York: HarperCollins Publishers, 2008 (Pgs 4-12)